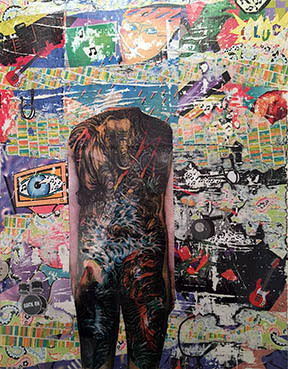 Charles Apt • Lee Brozgol • Ken Butler • Ingrid Capozzoli Flinn • Regina Cherry • Cecile Chong • Edward Clark Susan Conrad •Jennifer Delilah •Howard Eisman •Philip Evergood •Bonnie Faulkner •Tully Filmus Susan Hamburger •Fred Hatt •Shelley Himmelstein •Stewart Hoyt •Jack Howard-Potter •Yana Kaplun • Maho Kino • Yuliya Lanina • Alexandra Limpert • Janice Mauro • Frederick MacMonnies Meridith McNeal •Douglas Metzler •Karen Miles •Artem Mirolevich •Arlene Morris •Justin Neely • Susan Newmark •Alexander Ney •Savo Radulovic •Audrey Rhoda •K.Saito •Jacqueline Schiffman Amos Schumacher • Carri Skoczek • Michael Sorgatz • Fedele Spadafora • Abraham Walkowitz • Mary Westring
September 9 – October 30, 2016
RECEPTION: Friday, September 9th, from 6-9PM with musical guests Paul Buffa and Nicholas Grodsky
FIGUREWORKS
fine art of the human form
168 North 6th St. (1 block from Bedford Avenue "L" train)
Williamsburg, Brooklyn, NY 11211
www.figureworks.com
hours: Saturday and Sunday from 1-6PM
---
Figureworks is pleased to open this fall season with music! "Art and Music" have always been associated together and this exhibition embraces both.
For this exhibition, a number of artists were asked to take the theme of music and create a figure-based work of art. For some, it was a challenge to take audio to visual and many of these creations became wonderfully conceptual. One can almost hear music in these works. Others used the opportunity to portray a specific musician or instrument that provides inspiration to them while working in their studios.
These contemporary works are now showcased with a number of 20th century works to provide even greater reference to how music plays such an valuable and important role in our lives.
Adding to this exhibition, Figureworks will also host a number of live music venues. Please reference www.figureworks.com as additional performances will be added throughout the exhibition.
September 8th // 6-9PM
Paul Buffa and Nicholas Grodsky
September 18th // 2-3PM
AC Haley
October 9th // 2-3PM
TBA
October 23rd // 2-3PM
Christa Hylton, soprano
Every Friday and Saturday night, Ken Butler (artist in this exhibition) will also be exhibiting and performing at Sideshow Gallery.
Figureworks is located at 168 North 6th St., Williamsburg, Brooklyn, NY 11211, one block from the Bedford Avenue "L" train. The gallery is open to the public Saturday and Sunday from 1-6 PM and is dedicated to exhibiting contemporary and 20th century fine art of the human form.
For more information please call 718-486-7021 or visit us online at www.figureworks.com